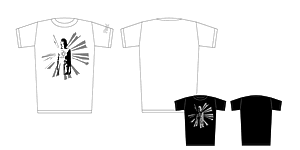 We have a new T-shirt joining our Rez merchandise collection!
Rez and BEAMS, a renowned clothing shop for its stylish selection, created anoother cool item for your closet.
On the frontside of the T-shirt is a girl playing Rez, overlapping the image of "Level 5."
The shirts come in white or black, and in three sizes (S, M, and L).
To Rez fans living outside Japan
-- Great news! Our merchandise can now purchased online for the first time!


This is a limited edition item, so act fast!
>> BeamsT


The future of gaming has arrived!
The English version of Rez was released in the United States on January 8th! Get your ticket to the world of light, sound and vibrations at any game retailer in your area!
Also, good news European players!! The release date of Rez in Europe has been set for February 20th. Keep your game consoles heated up and ready for the arrival of Rez!
And don't forget to come back once in a while to pick up the latest news, tips, hints and secrets on Rez and all of the other SONICTEAM games! Only here at the official SONICTEAM web site!!